Anyone who worked at Digital in the 1970s or 1980s will have fond memories of Ronnie Conlon, a man whose perseverance in the face of adversity was an inspiration to all who knew him.
Ronnie was born in Tuam and joined An Garda Síochána after leaving school. On November 16th 1966, a year to the day after graduating from Templemore, he suffered a freak accident when chopping timber for the barracks fire. His axe caught an overhead branch, and the impact caused a blood clot that led to a spinal injury and left him paralysed at just 20 years of age. He spent four years at the National Rehabilitation Centre in Dun Laoghaire before he could return home.
On returning to Tuam in 1970, Ronnie was determined to live a normal life. He found work with a local mail order company and when it closed in 1974, he joined Digital. He spent 18 years at Digital where, in spite of his disability, he pursued a normal career and lived an independent life. He and his beloved specially adapted Daf 66 car, donated by his work and Garda colleagues, were a regular sight all around Galway. Such was Ronnie's independence, he even went back to college and graduated with a BA degree and a Higher Diploma in Education.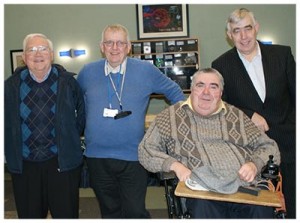 "Digital and all the people I met there gave me back the chance of having a life, and enhanced it multi fold. After I had been discharged from the Gardai in 1967 my life had been badly shattered, and my spirit was almost quenched; without a penny and without a hope of a proper income ever again in those days. Digital and all my Digital friends turned all that around. To my dying day I will always sing their praise."
Ronnie Conlon
After leaving Digital in 1994, Ronnie established the Galway Centre for Independent Living and worked with the Irish Wheelchair Association as an advocate whose personal story inspired many other people with disabilities. Ronnie loved to meet his friends from his Digital days and kept in close touch with many of them right up until his death in August 2012. The picture above shows Ronnie at the 40th anniversary tour of the HP plant in Galway.
Ronnie was the subject of a radio documentary which was broadcast on RTÉ Radio on 25 March 2011. You can download the podcast from the RTÉ website. See also his obituary, which appeared in the Tuam Herald on 29 August 2012.
May he rest in peace.